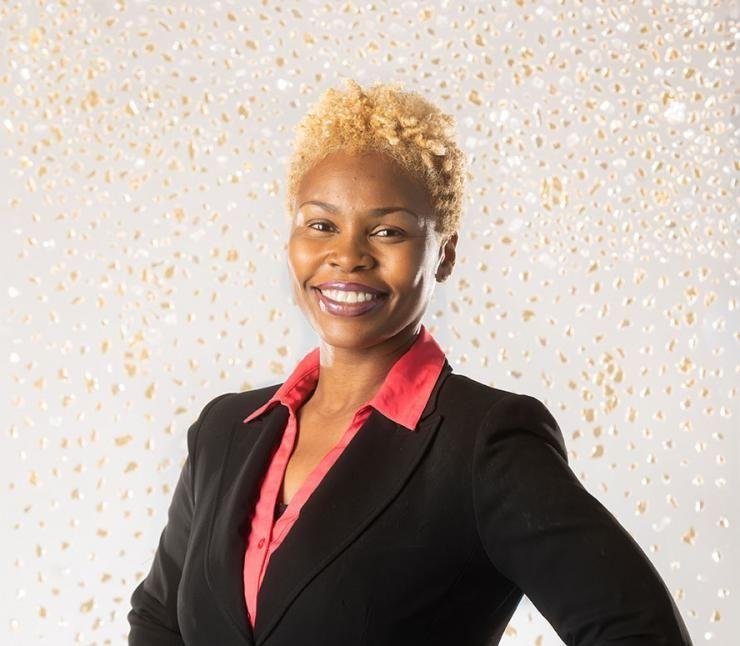 Dr. Joyelle "Joy" Harris, a long-time proponent of student success, joined the Office of Undergraduate Education (OUE) this past August as the inaugural Director of Diversity, Equity, and Inclusion (DEI) Initiatives in Undergraduate Education. Joy has worked closely with OUE groups, such as the OUE Equity Collective, and campus partners across Georgia Tech in this exciting new role while maintaining her joint appointment to the School of Electrical and Computer Engineering (ECE) as a senior academic professional.
How do you feel leading the new Center for DEI Initiatives in Undergraduate Education, and what are some of your current projects?
I am excited to build out the center—it's fun to create! We're organized into three pillars or three initiatives: Examine, Engage and Excel.
Examine: research programs that focus on examining group causes for inequity gaps around campus with our student population and monitoring relevant metrics to make sure that the programs are effective.
Engage: programs that engage stakeholders with our students, including faculty, staff, nonprofit leaders, corporate and industry partners.
Excel: student-facing programs that help our students to excel at Georgia Tech.
Currently, I am working on three projects for faculty, staff, and students. For faculty we're creating a Diversity, Equity, Inclusion, Justice and Belonging (DEIJB) Faculty Fellows Program. The purpose of the program is to recruit faculty members from all over campus to identify equity gaps in their units, and then create projects to close those gaps.
Similarly, the DEIJB Staff Fellows Program will create equitable opportunities for staff and help staff find ways to engage more with students. The Staff Fellows Program will pay with 40 hours of professional development—the only criteria are that they use their professional development for a student-facing project. Whereas the Faculty Fellows Program will impact individual units, the Staff Fellows Program will ultimately impact the students.
Our third current program is to help diverse students increase their engagement with high-impact learning practices. I'm starting with study abroad and encouraging faculty members to add an internal element to their current courses. I'm currently going through faculty proposals to narrow down to 10 slots. Our goal for this program is to increase Black, Indigenous, and People of Color (BIPOC), under-resourced, and first-generation student engagement and participation with study abroad programs.
I'm also starting up a fourth project for November 4th called Networking 101 to demystify networking. For students who are marginalized or low-resourced, they don't have the same level of comfort with networking in a corporate environment as other students. So I'm working on partnering with the Global Leadership LLC and the other living learning communities to host a service event that I will invite students and corporate affiliates from Visa, Home Depot, IBM, and others to make networking easier and showing that we're all working together for a common good. I think it'll be a lot of fun!
How do you balance your faculty role in ECE with your new role within OUE?
Both of my roles balance and complement each other very well, since ECE gives me a wonderful test bed to interact with a large group of students. Any program that I would do to benefit my ECE students will also benefit the whole campus, and vice versa. Within ECE, my role is teaching, advising, and identifying equity gaps within our unit. Balancing comes easy, it's just making sure that I have time for my teaching, as that's the only obligation that is specific to ECE that does not overlap with my work in OUE. I carve out time to make sure that my students in my classes are having a positive learning experience.
What are some challenges that you face so far or may face within the next year, and how do you plan to overcome them?
The biggest challenge right now is that I am an office of one—I don't have support staff like a program and operations manager. I must make sure that I have the capacity and bandwidth to implement ideas and solve problems. Not everything I try is going to be successful, but I want to be able to try something, iterate, learn from it, and then do it better. Over the next year, I anticipate building my staff and increasing personnel.
Within the next year I see the iterative process being a challenge as well. Evaluating programs and then securing the funding for those programs is necessary so ensure that our programs can succeed and grow. At a university, if you don't have a funding challenge, you are living the best world ever.
What are some things that you do outside of work, such as your interests and hobbies?
I focus a lot on mental health and wellbeing, so in my time outside of work I make sure that I'm replenishing myself to bring 100% to my students and colleagues. Family is important to me, so I replenish myself by spending time with my kids and my husband. I also enjoy nature—I love to kayak, hike, and exercise outside in places like Piedmont Park. I love adrenaline so whenever possible I love to do extreme activities like hang gliding, skydiving, jet skiing, and climbing mountains. I've even gone scuba diving with sharks.
I love to travel as well. My husband and I just came back from a trip to Sweden where I presented at the Frontiers in Education conference. I want transformative experiences for myself and my family, and traveling is one of the ways that I do that.
How can people get in contact with you?
I can be contacted via phone or email. My cell phone number is in my email signature, and I welcome phone calls as it's the easiest way to keep in contact with my students. I'm always open to help, since many hands make light work, and everyone's ideas are better than mine alone. I can also set up appointments via Microsoft Teams, it's a great way to send an instant message.
If you are working in the DEIJB space, I want to know you. If you have ideas to help our student population or our program to be more equitable, I want to hear about it.
At the end of the day, I want to help our students have a fun, productive learning experience with equitable outcomes. This work is too big to do alone, so I want to involve everybody who wants to be in this space. All are welcome!