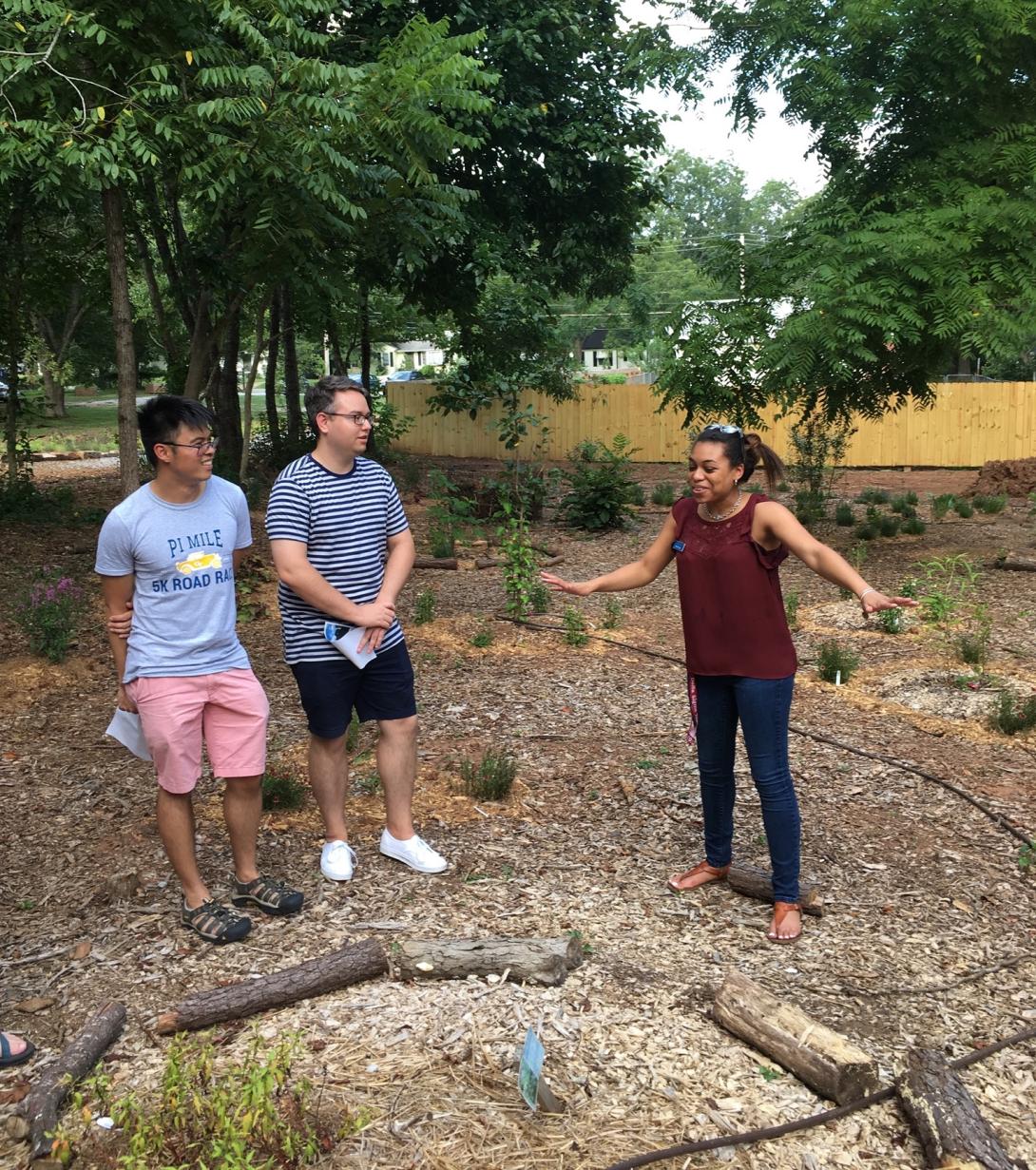 In January, Georgia Tech's Serve-Learn-Sustain kicked off their newest program — Public Interest Technology (PIT) Student Fellows — with a cohort of ten multifaceted engineering students excited to put their technological chops — and their other talents, skills, and energy — to work to make a difference in their own backyard.
The SLS PIT Student Fellows program supports undergraduates, particularly underrepresented minority students, to partner with communities to scope and implement engineering capstone and senior design projects that use technology to advance the public interest. The program is funded by a grant from the Public Interest Technology University Network (PIT-UN) and the New America Foundation, which defines public interest technology as "the study and application of technology expertise to advance the public interest/generate public benefits/promote the public good." 
The SLS program, run in collaboration with the Career Center and Institute Diversity, Equity, and Inclusion, also aims to build the field of public interest technology by enticing students to consider public interest careers that use technology to create sustainable communities.   
"Becoming a Public Interest Technology Fellow is a unique opportunity at Tech," explained program lead Ruthie Yow, a service learning and partnerships specialist in SLS. "Students have an extraordinary opportunity to learn how to scope a project with a partner, work in an interdisciplinary setting with other students, and understand how their skills can contribute to public interest technology and social impact when they graduate." 
The Public Interest Technology University Network programs get right to the heart of Georgia Tech's mission of developing leaders who advance technology and improve the human condition," said Steven W. McLaughlin, provost and executive vice president for Academic Affairs. "By training a new generation of innovators to combine their technological skills with knowledge of communities to improve structural inequalities, tackle environmental and social injustices, build sustainable transportation, and more, we are helping to realize the transformative potential of technology as a force for public good.
During this initial stage, the program is focusing on four majors: civil and environmental engineering, mechanical engineering, industrial and systems engineering, and electrical and computer engineering. Projects are intended to draw on students' disciplinary skills to support and amplify partner vision and impact. The challenge is to develop long-term projects, to be implemented in stages over multiple semesters and years, that are both technologically sophisticated enough to satisfy the requirements of capstone and senior design and advance important sustainability work happening in communities. Students and partners will scope the projects this semester and then pilot initial stages of implementation as part of SLS's Summer Internship Program. 
"Our students are not only technically talented, but also passionate about having a positive impact on the world around them. This program allows them to pursue this passion, and I am personally really excited about seeing where this will lead," said Magnus Egerstedt, chair of the School of Electrical and Computer Engineering. "This is a wonderful opportunity for like-minded students and faculty to explore the reality of working in and with a community," added faculty mentor Jonathan Colton, a professor in the George W. Woodruff School of Mechanical Engineering. "This will lead to greater engagement and impact."   
SLS community partners participating in the PIT program include PlantLanta, West Atlanta Watershed Alliance, the Grove Park Foundation, TransFormation Alliance, and the Center for Sustainable Communities. With faculty guidance, students and partners will jointly scope projects that support partners' ongoing efforts in Atlanta neighborhoods and in Hampton Roads, Virginia to mobilize youth for climate action, build racially equitable transit, install green infrastructure that benefits legacy residents, and, in partnership with Georgia Tech's Global Change Program, mitigate urban heat islands.   
Students see the PIT program as a way to shape their trajectories while at Georgia Tech as well as after graduating. "I wanted to participate in this program so that I could discover ways I could use my skills as an engineer to address the very important issue of sustainability and equity in our communities," ISyE major Stella Carrasco said. "This program will help me use my career to improve the quality of life in communities," said CEE major Jesus Gomez.  
Both the students and the partners are enthusiastic about learning from and with each other. "Being able to work alongside wonderful community partners and student fellows is an inspiring and motivating environment to be in," said Sivalika Bagrodia, a second-year ISyE student from India.   
---
Serve-Learn-Sustain is a unit of the Office of Undergraduate Education (OUE). Learn more about OUE by visiting oue.gatech.edu and by following us on Instagram, Twitter, and Facebook.