Georgia Tech's Serve-Learn-Sustain (SLS) and Center for Teaching and Learning (CTL) are collaborating to expand professional development initiatives to incorporate sustainability and the U.N. Sustainable Development Goals (SDGs) across the curriculum — at Georgia Tech and beyond.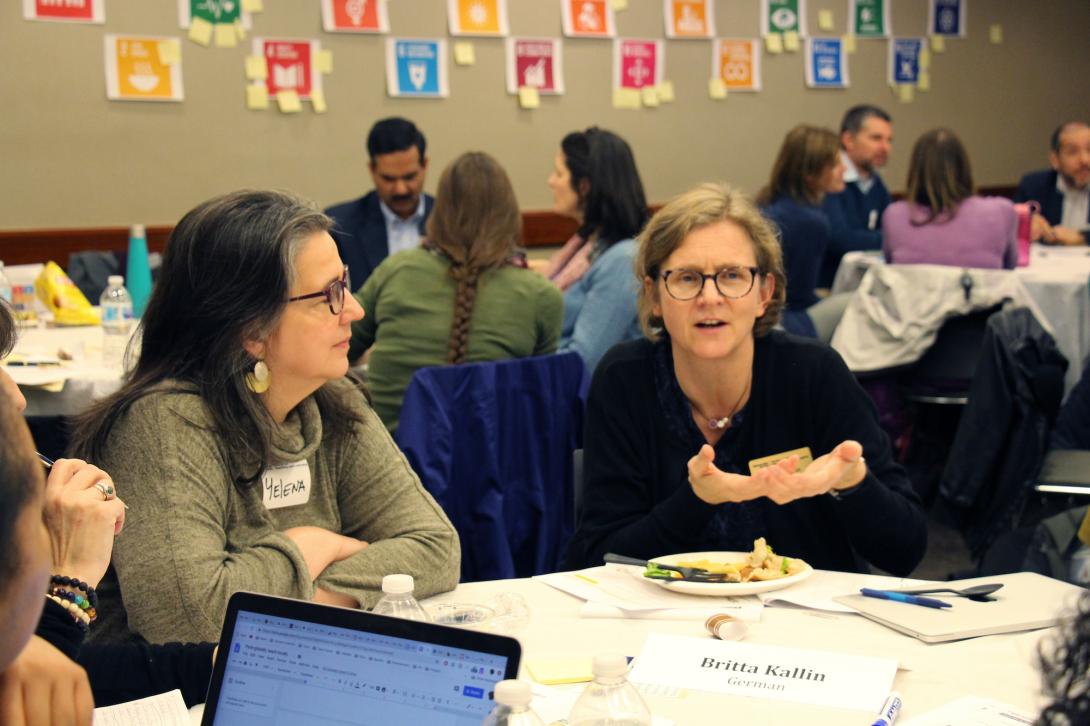 SLS and CTL recently accepted 13 faculty members to serve as Sustainability/SDG Education Teaching Fellows during the spring semester. The program builds on SLS Fellows and CTL Teaching Fellows programs, which bring together diverse faculty, staff, and graduate students to examine and apply key themes related to sustainable communities and engage in conversations about teaching.
The Spring 2022 Fellows Program advances creative uses of the SDGs and sustainability competencies in courses spanning all six colleges and advances the Institute's strategic plan goal to provide all students with transformative learning experiences to grow as creative, ethical, globally aware, technologically sophisticated leaders who can define and solve problems to improve the human condition.
In addition to developing their own course materials, fellows will support integration of Education for Sustainable Development (ESD) across the curriculum in several ways. First, the materials they develop or redesign, including syllabi, modules, and assignments, will be incorporated into a growing toolkit of resources that serve as models for other instructors. Second, the fellows will help build a new, multi-institutional Community of Practice on Teaching with the SDGs, in collaboration with our regional sustainability education network, RCE Greater Atlanta, officially acknowledged by United Nations University. Finally, the fellows will engage with ongoing strategic planning to identify opportunities to scale up ESD across the curriculum.
The program leverages collaboration across universities through the RCE Greater Atlanta to include Kennesaw State University (KSU) faculty as well as Georgia Tech faculty and a Ph.D. student. Each fellow is paired with a professional from Georgia Tech's SLS, CTL, or KSU's Center for Excellence in Teaching and Learning (CETL) for one-on-one support with their projects.
Faculty professional development is crucial to advancing the U.N. SDGs across the curriculum," Steven W. McLaughlin, provost and executive vice president for Academic Affairs, said. "By collaborating across units and institutions, we create rich opportunities for faculty to expand their sense of community around teaching with the SDGs and to draw inspiration from a broader range of ideas and examples.
The following faculty members were selected as Sustainability/SDG Education Teaching Fellows:
Anne Fuller, senior lecturer of strategy and innovation in the Scheller College of Business, Georgia Tech
Lionel Gall, senior lecturer in French in the School of Modern Languages, Georgia Tech
Jairo Garcia, adjunct faculty in the School of City and Regional Planning, Georgia Tech
Richard Halstead-Nussloch, professor in the Information Technology Department, KSU
Tiffini Eugene Jones, assistant professor in the College of Sciences, KSU
Steven Kangisser, Ph.D. student in the School of Building Construction, Georgia Tech
Britta Kallin, associate professor of German in the School of Modern Languages, Georgia Tech
Kyoko Masuda, associate professor of Japanese and Linguistics in the School of Modern Languages, Georgia Tech
Raghu Pucha, principal lecturer in the George W. Woodruff School of Mechanical Engineering, Georgia Tech
Carsten Sievers, associate professor in the School of Chemical and Biomolecular Engineering, Georgia Tech
Norah Sinclair, instructional designer and content developer at the Center for Inclusive Design and Innovation in the College of Design, Georgia Tech
Lara Smith-Sitton, associate professor in the English Department, KSU
Teresa Snow, senior academic professional in the School of Biological Sciences, Georgia Tech
The program extends ongoing CTL/SLS collaborative ESD faculty development initiatives. In Fall 2021, Georgia Tech's SLS and CTL joined forces with KSU's CETL to facilitate a multi-institutional Faculty Learning Community (FLC). FLC participants from KSU, along with all Georgia faculty and graduate students, were invited to apply to the spring Fellows Program.
The Fall 2021 FLC on Teaching with the SDGs resulted in a successful submission to the University System of Georgia (USG) Teaching and Learning Conference. Along with with co-facilitators Carol Subiño Sullivan, assistant director for Faculty Teaching and Learning Initiatives with Georgia Tech's CTL, Rebecca Watts Hull, a service-learning and partnerships specialist with SLS, and Mandy McGrew, education specialist, Scholarly Teaching with Kennesaw's CETL, five instructors at Georgia Tech and four at KSU are developing a workshop for the USG conference titled "From HIPs to SDGs: Why the UN Sustainable Development Goals should be in your course and how to get started." Register here to gain access to this workshop and many others. Workshop participants will view a recorded presentation and then attend a virtual, synchronous session to ask questions and learn how to get started on incorporating the SDGs in their own courses.
McGrew, Subiño Sullivan, and Watts Hull are working with the following Georgia Tech and KSU faculty and graduate presenters to prepare the workshop on SDG course integration for the USG Teaching & Learning Conference:
Richard Halstead-Nussloch, professor in the Information Technology Department, KSU
Tiffini Eugene Jones, assistant professor in the College of Sciences, KSU
Ali Keyvanfar, professor in Construction Management, KSU
Jennifer Leavey, assistant dean for faculty mentoring in the College of Sciences and principal academic professional in the School of Biological Sciences, Georgia Tech
Raghu Pucha, principal lecturer in the School of Mechanical Engineering, Georgia Tech
Matthew Realff, professor and David Wang senior fellow in the School of Chemical and Biomolecular Engineering, Georgia Tech
Michael Best, professor in the Sam Nunn School of International Affairs and the School of Interactive Computing, Georgia Tech
Andrew Schultz, PhD Candidate in the School of Mechanical Engineering
Lara Smith-Sitton, director of the BA/undergraduate English Studies Program and associate professor in the English Department, KSU