The Professional Development Committee, made up of Office of Undergraduate Education (OUE) staff dedicated to staff professional development and staff wellbeing, is developing new events, trainings, and opportunities for the department.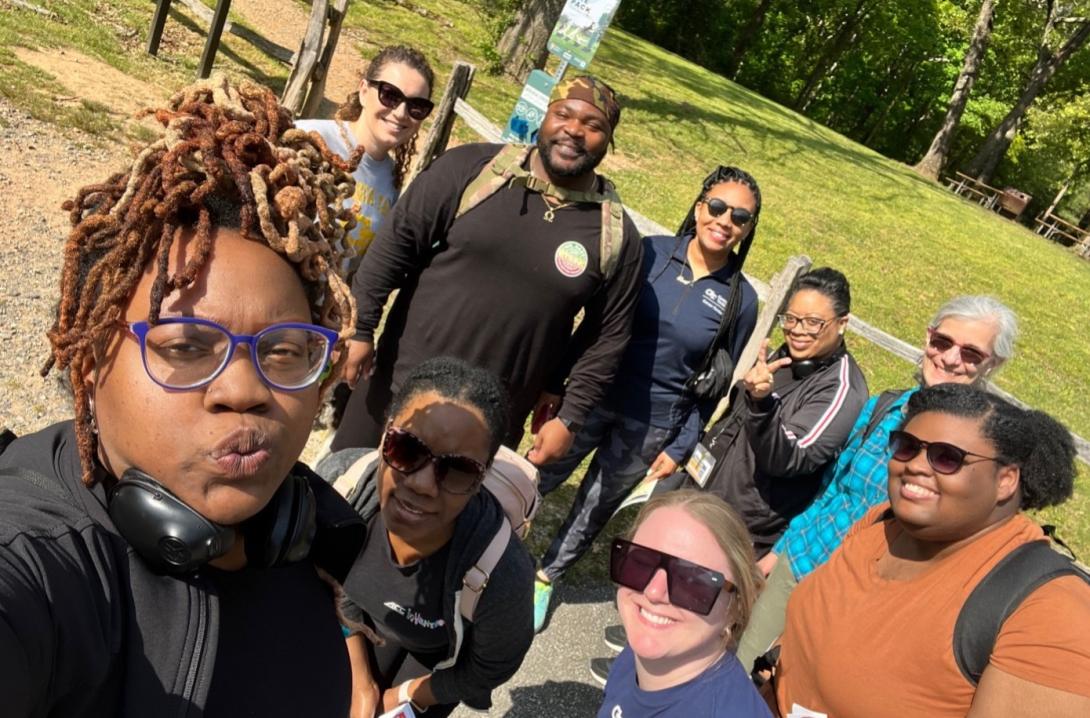 Since 2020, the OUE Professional Development Committee has had monthly virtual meetings to discuss programs and events to support staff within the Office of Undergraduate Education. Every year the committee assists in calling for and organizing OUE nominations for the Georgia Tech Staff Awards hosed by Human Resources (HR). In the past three years, OUE has had several staff members win awards at the institute level through this process.
The committee has hosted several new events in 2022, including a hiking event at the West Palisades Trail in April and volunteering with C.H.O.I.C.E.S. Mobile Food Pantry in June. The committee is planning to volunteer again with the mobile food pantry in November for the holiday season. In addition to wellbeing and community events for OUE staff, beginning this fall the committee is working with administration and HR representatives to improve the onboarding process for new staff and create 1-2-3 Ambassadors, a new mentorship program that pairs new employees with an assigned ambassador within the OUE department to assist in support and acclimation to the Office of Undergraduate Education and Georgia Tech.
Nicole Leonard, Assistant Director for Advising & Coaching in Undergraduate Advising & Transition, is the new chair for the committee as of this fall. Nicole has many plans for the committee going into the new semester and into 2023.
As the new chair, are there any things that you're excited about changing or implementing for this upcoming year?
I'm the most excited about improving the structure of the committee to better organize the responsibilities for each member. As of right now we're thinking of subcommittees focused on Training and Development, Service and Wellness, and Internal Communications. Creating subcommittees with their own leaders will aid in the professional development of our members, giving them the ability to learn new leadership skills and earn recognition for the initiatives they spearhead. Usually, staff take time to have performance evaluations and goal setting in January and February of every year, but what can we do to make our goals a year-round focus? Goal tracking and keeping a record of your progress and accomplishments throughout the year can assist in preparing for that time of year. This new model will also help us to better align to Georgia Tech's motto, "Progress and Service", and the new Strategic Plan.
The OUE Professional Development Committee is always looking for new members. Do you have any ideas or plans for recruitment?
One of the advantages of implementing the subcommittee structure is hopefully it will encourage people to be involved in the committee in the ways that they can feasibly. Everyone has a busy schedule, so if a staff member only wants to be involved with training and development, or only with volunteering events, they can align the committee's offerings to their own professional development goals for the year.  For example, many staff are interested in learning software like Tableau, or being involved with more social events like the book club we ran in the past. In the future, we can also expand membership beyond OUE. In February, OUE along with Graduate and Postdoctoral Education and the Center for Teaching and Learning (CTL) were incorporated into a new office, the Office of Education and Learning. If we could combine forces with the new offices under the Education and Learning umbrella, that would help us with our goals. This will also help to facilitate collaboration and community among the units.
What are some challenges that you think may come up in the next year, and how do you plan to overcome them?
The biggest challenge is staff retention and how that affects the workload of the remaining staff. Many people are being accepted for amazing positions either across campus or outside of Tech. It's a challenge because we're losing their perspectives and their knowledge within OUE. I can speak from experience, my unit is much smaller than it was when I started in the Assistant Director role, so I can feel how more and more tasks added to the plates of our staff can eclipse what one wants to accomplish in their professional development. Hopefully, more professional development opportunities for staff can help with our retention. We're looking at talking with the Georgia Tech Staff Council and HR for more ideas on what we can offer for our staff.
Additionally, a challenge we'll have to face is deciding when to host events. There are certain times of the year where staff are busier, so we need to tailor our event planning based on that. For example, the Career Center was preparing for the All-Majors Career Fair that took place on September 12th through the 13th, so we made sure to not have any events in the weeks leading up to it. We want to try for two or three events a semester, including a service project and some type of training staff can utilize in the beginning of a new semester that can give them new tools to implement over the next few months. I want to make sure that this committee is worthwhile for the staff that we're serving as well as the staff directly involved in the committee planning and execution.
The OUE Professional Development Committee is always looking for new members from OUE's staff. More information about the committee can be found at https://oue.gatech.edu/oue-committees#professional+development.