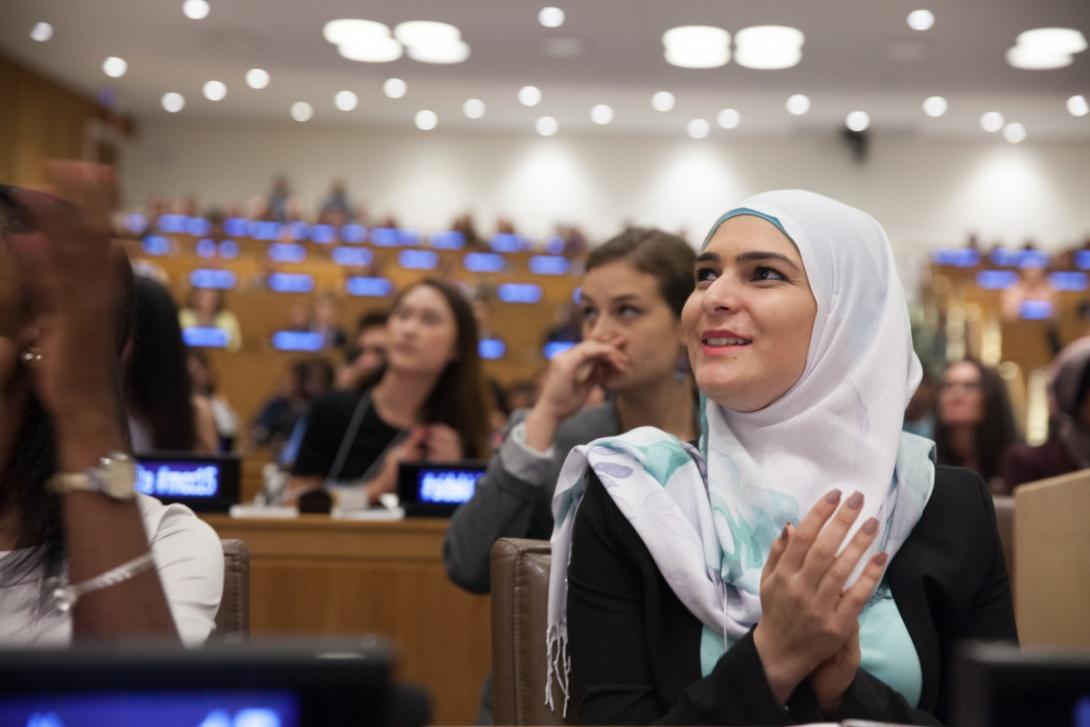 by Dr. Jennifer Hirsch, Dr. Shannon Dobranski, Cory Hopkins, Susie Ivy, & Kris Chatfield
A cohort of 18 students from the Georgia Institute of Technology has been selected as part of the 2018 Millennium Fellowship, a joint leadership development program of the United Nations Academic Impact and the Millennium Campus Network (MCN).
The selective fellowship is a semester-long leadership program that will engage the fellows through experiential curriculum on cultivating core values, honing hard and soft skills, and sharing best practices.
Georgia Tech is known for preparing its students to be proficient as leaders in a global setting," said Georgia Tech President G.P. "Bud" Peterson. "We are proud of the Institute's cohort of 18 students who have earned the honor to take part as Millennium Fellows in this highly selective global pilot program. This is a great opportunity for them to sharpen their leadership skills, collaborate and develop contacts with like-minded students, and at the same time to use their knowledge to help improve others' lives.'
2018 Millennium Fellowship winners from Georgia Tech include these students:
Adair Garrett*
Anna Peterson
Atticus Lemahieu
Elizabeth Krakovski
Gabrielle Oliverio
Heather Mikan
Janay Jones
John Butler
Jimin Yoon
Joanne Tamayo
Keshav Vasudeva
Katriella Lumbantobing*
Mengqiao Gao
Miranda Kaufman
Nineesha Koshy
Timothy Purvis
Samantha Gistren
Spencer Alliston
*Denotes Campus Director
Applications to join the Class of 2018 came from 285 campuses across 57 nations for the program. Georgia Tech will serve as one of 30 campuses worldwide (just 11%) to host the 530 Millennium Fellows in the global pilot this year. Adair Garrett, Civil Engineering major and one of two Campus Directors for the Georgia Tech cohort stated, "I feel so lucky to be part of the Millennium Fellowship. The application process was thorough and strenuous, but I was excited by how many other Georgia Tech students are passionate about making a change. This team is why I wanted to be a campus director and poured many hours into that aspect of the application – I wanted to help the Georgia Tech cohort reach its maximum potential and encourage collaboration between these extremely smart, motivated students. I'm particularly excited about working with my team, who joined together over a shared interest in helping the RCE Youth Network of Greater Atlanta develop a stronger communication among members at different schools."
More than 5,500 young leaders from 300 universities have already participated in MCN programs to date. MCN launched the Millennium Fellowship in 2013 to convene, challenge, and celebrate student leadership for social impact. Student leaders worldwide were invited to join an extraordinary community of young leaders advancing the Sustainable Development Goals in their respective communities. Notably, 75% of MCN alumni go on to work in social impact careers in the public and private sectors.  
Georgia Tech applications were coordinated by Serve-Learn-Sustain (SLS) and Prestigious Fellowships Advising in the Center for Career Discovery & Development (C2D2). "We enjoyed working with the enthusiastic, committed students who applied for the Millennium Fellowship. For any students who are interested in applying for opportunities such as the Millennium Fellowship and many others, we are here to provide advising and support," said Kathryn Meehan, Prestigious Fellowships Advisor.
SLS works with the vast majority of the students listed above, and the fellowship is closely tied to their work with RCE Greater Atlanta, officially acknowledged by the United Nations University in December 2018 (read the press release here). RCEs are Regional Centres of Expertise on Education for Sustainable Development and support the implementation of the U.N. Sustainable Development Goals at the regional level through education and training. "We are excited about the projects proposed by the Georgia Tech teams, and the opportunity to strengthen the RCE Youth Network through the work of the Millennium Fellows this semester," stated Kristina Chatfield, SLS Program and Operations Manager.
About the Class of 2018
The Class of 2018 is bold, innovative, and inclusive. Millennium Fellows' Projects are projected to positively impact the lives of over 310,000 people worldwide this year. Other statistics of note:
The Class of 2018 is 58% female
32% of the Class is first-generation university students
Campus hubs have been selected in every region of the globe
Fellows are collectively advancing every Sustainable Development Goal (most frequently listed: SDG 4 - quality education) and every United Nations Academic Impact Principle (most frequently listed: UNAI Principle 9 - sustainability).
Millennium Fellows have been selected from a range of academic institutions - large and small, public and private - affirming the fact that there are student leaders in every community committed to localizing the SDGs and strengthening communities.
The Class of 2018 is an extraordinary group of leaders creating social impact in their communities. Millennium Fellows' Projects are projected to positively impact the lives of over 310,000 people worldwide this year.