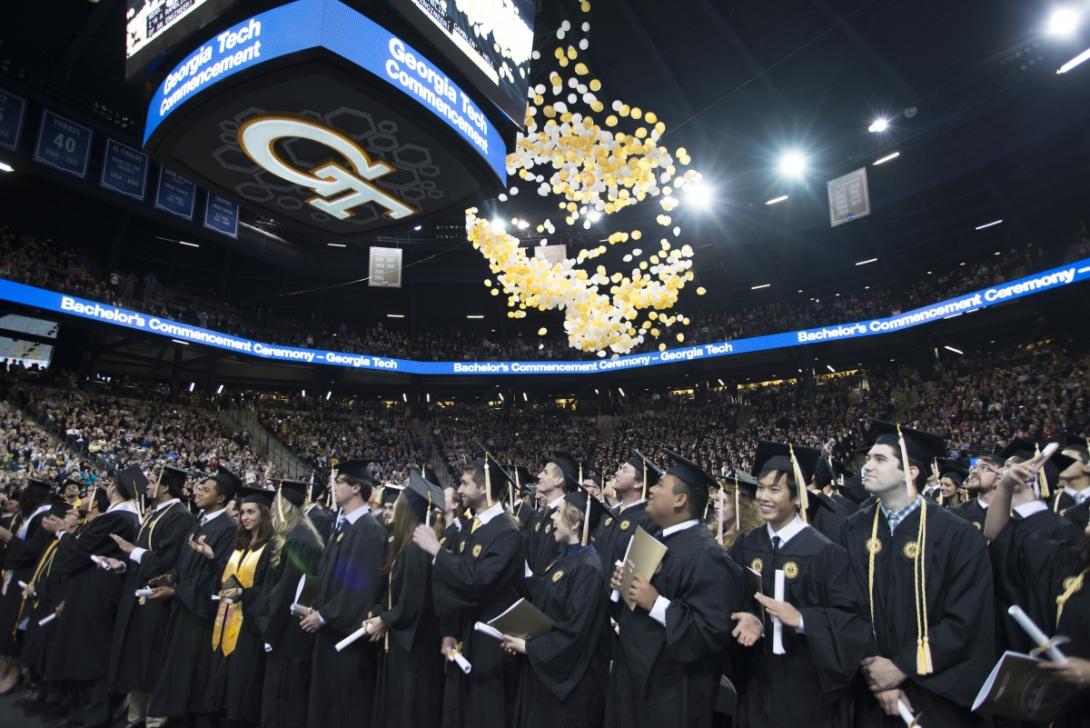 Georgia Tech undergraduates are earning their degrees at record rates. During the 2019-20 academic year, the Institute awarded 3,934 undergraduate degrees.
And ever since the 2011 inception of Complete College Georgia (CCG) — a University System of Georgia (USG) initiative to increase the amount of students who complete their degrees — the numbers have continued to rise.
Students in the Fall 2014 first-year cohort recorded a six-year graduation rate of 91%, an all-time high for the Institute. Underrepresented minorities and women within this cohort also posted record-high graduation rates of 87% and 92%, respectively. Additionally, 97% of students in the Fall 2019 first-year cohort enrolled for a second year. This represents the sixth straight cohort to post a 97% one-year retention rate. 
As part of Georgia Tech's Complete College Georgia (CCG-GT) initiative, the Institute monitors multiple retention, progression, and graduation metrics. A campus steering committee, co-chaired by Sandi Bramblett, assistant vice president for Institute Research and Enterprise Data Management, and Steven P. Girardot, associate vice provost for Undergraduate Education (AVPUE), helps to guide this work. "Georgia Tech undergraduates once again demonstrated their dedication and resilience by posting record graduation and retention rates," said Director of Retention and Graduation Initiatives/Assistant Registrar Brent Griffin. "In this unparalleled year, it is wonderful to celebrate their accomplishments, as well as the work of faculty and staff across the Institute as they support students in their journey toward a Georgia Tech degree."
It has been clear that student engagement in high-impact educational practices often positively impacts our metrics. Based on data from the Fall 2013 first-year cohort, 97% of co-op students and 94% of students participating in the Grand Challenges Living Learning Community graduated within six years. A two-page summary highlights the exceptional degree progression of Georgia Tech undergraduates, as well as many of the high-impact practices supporting their success.  
Identifying opportunities for increased focus and continuous improvement are key components of CCG's work. In 2019-20, the Office of Undergraduate Education, Enrollment Management, and Student Life established a leadership team to promote success and design support structures for first-generation and financially under-resourced students (underserved populations as evidenced by their data). A national search is now underway for a full-time position that will be a clearinghouse for these initiatives; serve as a central resource for these students; and implement new programs and services that promote their success. The position will report to the director of Retention and Graduation Initiatives to ensure alignment of these efforts with Complete College Georgia.
"We have continued to make student success a top priority at Georgia Tech. I am grateful to our leadership who have invested new resources in areas like advising, academic support, and experiential education in support of Complete College Georgia," said AVPUE's Girardot. "It is with this support, and the commitment of our dedicated faculty and staff, that we have been able to achieve these results. Given the disruptive events of the past eight months related to the Covid-19 pandemic, these success metrics are even more impressive. They highlight the resilience of Georgia Tech students, the dedication and responsiveness of our faculty and staff, and the robust nature of our student support structures and high-impact practices."