Rachit Kumar (BME 2020), born deaf, received his cochlear implant before he was two years old.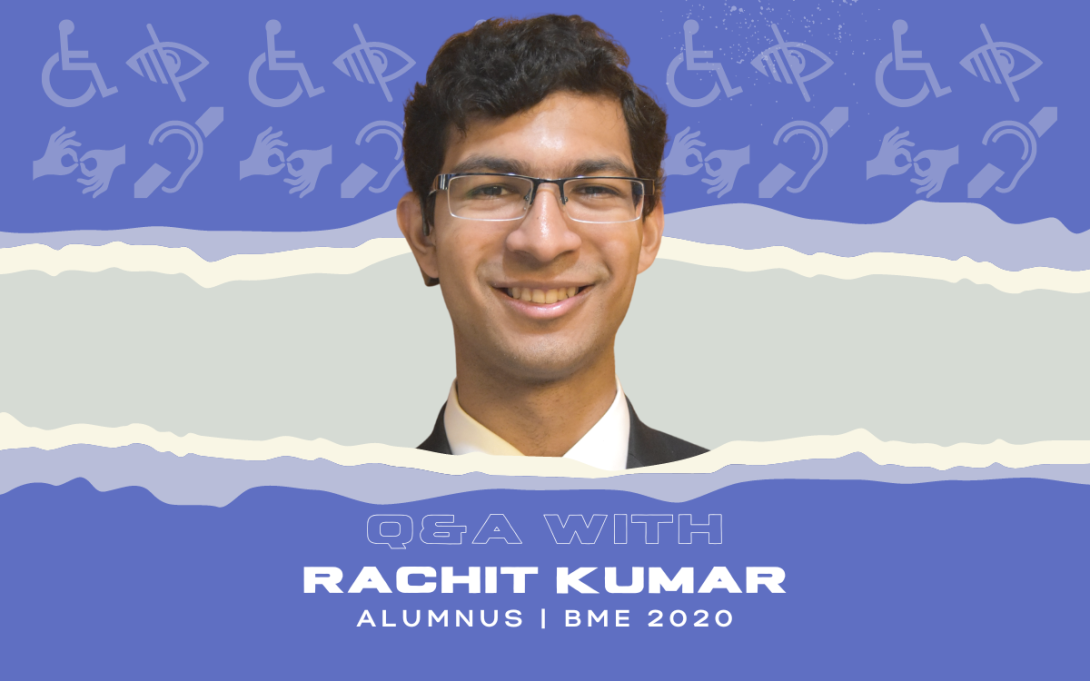 Cochlear implants are devices that assist people who are deaf or hard of hearing by giving a representation of sounds to help understand speech. The alumnus has used his experience with the implant to pursue a career in neurology in the medical field. Kumar used Pre-Graduate and Pre-Professional Advising (PGPP) during his time at Tech to help him navigate being a pre-med student, medical school applications, and more. 
Has having the cochlear implant affected your undergraduate experience?
Yes — I initially resented my hearing loss because of how limited I sometimes felt, but over time, I've come to appreciate the unique challenges it's presented to me. At the beginning of my educational journey, it directed parts of my research interests — though I have branched out to other fields, I still have a place in my heart for hearing-related research. It drove my decision to pursue a degree in biomedical engineering and eventually reconnected me with medicine in a way that made me want to pursue my eventual MD-Ph.D.
How did you connect with the Pre-Graduate and Pre-Professional Program at GT?
I connected with Francisco Castelan during FASET when I was considering the possibility of being pre-med. At that time, I was not sure if I wanted to go to medical school, but I wanted to keep the opportunity open. Since then, I connected regularly with Francisco and Dr. Shannon Dobranski about various parts of my career path, getting advice on writing applications for various programs as well as general career discussions.
How is your experience with medical school so far?
I have been enjoying it quite significantly. Starting and attending medical school throughout a pandemic has been a new experience for not just me, but also for my classmates, professors, and administrators. It has provided a unique perspective for many people on what they would like to do with their careers.
What's next for you?
I am currently studying for the United States Medical Licensing Examination (USMLE) Step 1 exam. After that, I will be transitioning to my Ph.D. this August.
Is there anyone you'd like to thank from your time at Georgia Tech?
MANY people—there are so many that I can't list them all. Among them, I want to thank Martin Jacobson and Dr. Maysam Nezafati in the Coulter Department of Biomedical Engineering, Dr. William Baron and Dr. Donald Doyle in the School of Chemistry and Biochemistry, as well as many others in many different fields. I was incredibly fortunate to have professors and lecturers that were immensely invested in their students throughout my entire time at Georgia Tech.
Anything you'd like to add?
Throughout my time at GT, impostor syndrome was something I struggled with quite significantly. My mentors and upperclassmen were instrumental in giving me an outside perspective on my progress and allowed me to develop the confidence to believe that I could pursue an MD-Ph.D.
---
Learn more about Pre-Graduate and Pre-Professional Advising at https://pgpp.oue.gatech.edu/. 
More information about Disability Services on the Georgia Tech campus, including accommodations and scholarship opportunities for students and support resources for faculty/staff, can be found at https://disabilityservices.gatech.edu/.