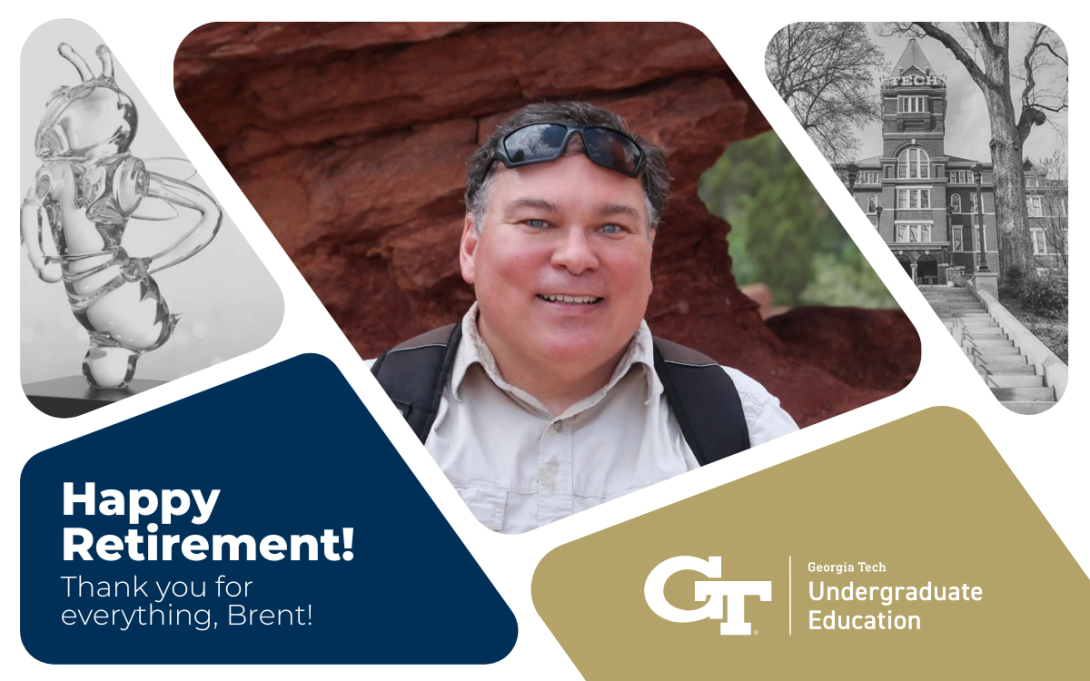 After three years at Georgia Tech and 26 years of service in the University System of Georgia, Brent Griffin, Director of Retention and Graduation Initiatives and Senior Assistant Registrar, has announced his plans to retire at the end of June 2022.
"I have known Brent since our time serving together on the USG General Education Council together and was thrilled when he came to Georgia Tech in his current role," said Steven Girardot, vice provost for undergraduate education. "He has successfully led many of our retention and graduation initiatives, including Complete College Georgia and Momentum Year, and he has always been driven by a passion for student success. He will be deeply missed, not only by me but also by many colleagues at Georgia Tech and across the USG."
Brent joined Georgia Tech in 2019 following 23 years of service as a mathematics professor and administrator with Georgia Highlands College. He coordinated Georgia Tech's Complete College Georgia and Momentum work (https://completecollege.gatech.edu/) and managed multiple projects that studied or promoted undergraduate degree progression. He also supported initiatives focused on first-generation students and Achieve Atlanta Scholars. He is also an alumnus of Georgia Tech, having earned his master's degree in mathematics here.
"I have been very grateful for and appreciative of Brent's extraordinary professionalism, knowledge, and work ethic," said Reta Pikowsky, Associate Vice Provost and Registrar. "I will miss him very much for his kindness, positive outlook, and consistent consideration of others' opinions and needs. He is truly an outstanding professional and colleague and a fine person."
During his time at Georgia Tech, Brent worked to launch First-Generation Student Programs (https://firstgen.gatech.edu), a joint effort between the Office of Undergraduate Education and Enrollment Management. The program, led by Dr. Charmaine Troy, is an expanding initiative providing resources and recognition to Georgia Tech's first-generation students. Georgia Tech was recently recognized nationally with NASPA's First-Gen Forward designation (https://firstgen.naspa.org/first-forward).
Brent also coordinated the release of GT-AMP, a mini-grant project designed to advance one or more USG Momentum Approach goals in alignment with the Amplify Impact focus area of the Institute Strategic Plan. Seven GT-AMP projects (https://completecollege.gatech.edu/2021-22-gt-amp-projects) are currently underway, impacting student success within units across campus.
I am appreciative of my time at Tech working on retention initiatives, and I am proud of the connections forged across campus units," Brent said. "I am particularly grateful to Reta Pikowsky and Steven Girardot for allowing me to contribute to the Office of the Registrar and the Office of Undergraduate Education for the last few years. I'll miss seeing the Tech Tower peeking above the trees as I walk into the office.