"The First" is a bold and inspiring title but also one that comes with challenge and difficulty. The Office of Undergraduate Education is proud of our first-generation students, and we hope the stories of two recent first-generation graduates will inspire others on their college paths as well.
These stories were originally shared by students and their families at the First-Generation Graduate student recognition ceremony on May 8th.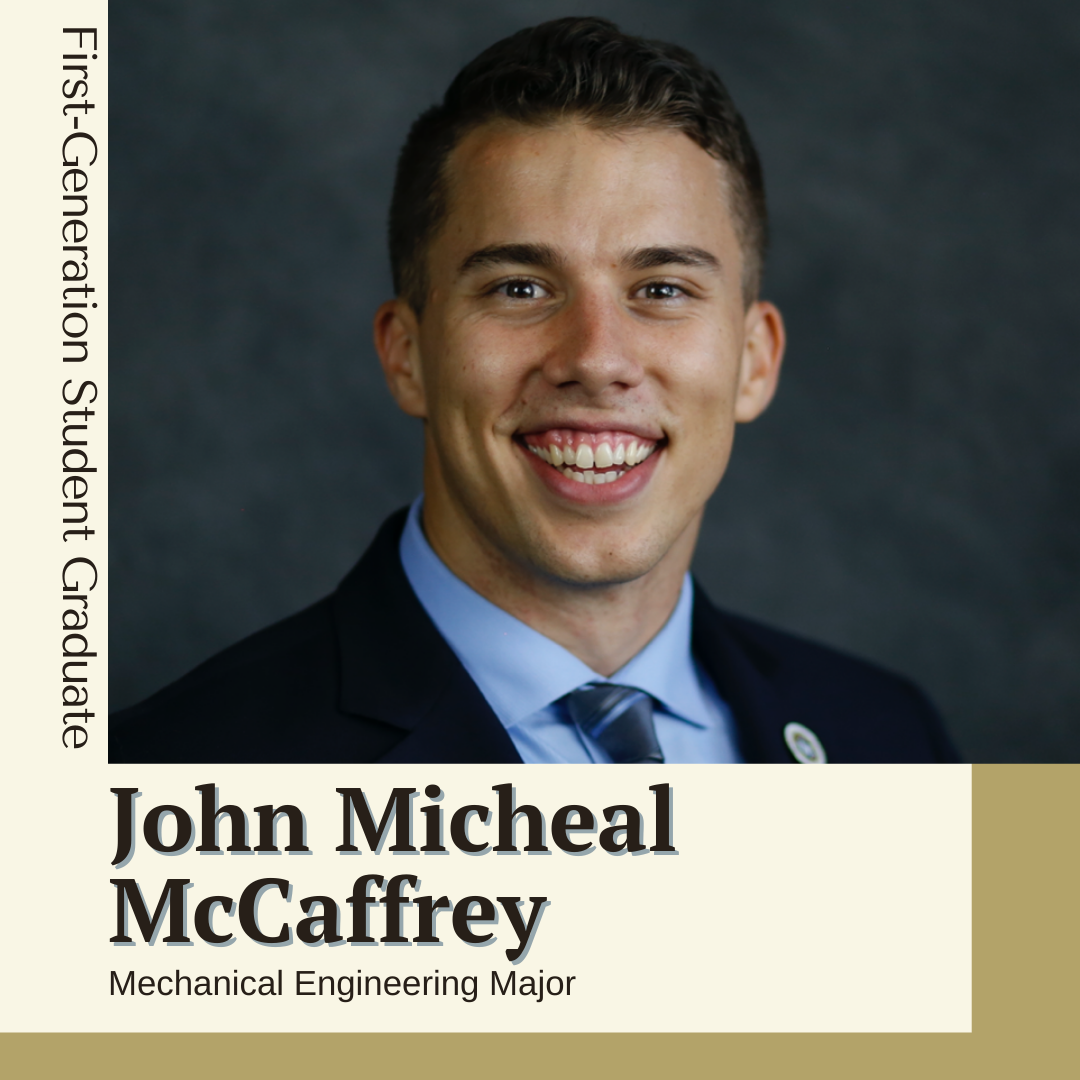 I was born into a family with 13 siblings. From 6 to 17, I worked 8+ hours a day operating heavy equipment for my family's sawmill business. Due to my rigorous work schedule, I received a minimal amount of education. During my adolescence, I learned how to drive and fix heavy equipment, birth cows, raise farm animals, plan and build homes, and understand the operations and mechanics of a factory. Due to a tumultuous upbringing, I was kicked out of my home at the age of 17 and left homeless. I pursued an honest living by hauling hay for money and was able to live temporarily with friends or out by the river. After six months, my grandparents found me and opened their home to me. My grandparents understood the importance of education and prioritized enrolling me in high school. With grit and determination and the support of my grandparents, I graduated high school with honors.
After high school, I secured a job as a new restaurant training manager for Darden Restaurants and traveled the country opening new restaurants until I was 21. At the age of 22, I decided to take four years off to work on humanitarian endeavors internationally. I traveled to four continents and gained diverse experience in 53 countries (and counting). In my international experience, I provided support for typhoon relief in the Philippines, led the housing for refugee camps in Greece, and drilled wells in Africa. I then returned to the states and completed two years of university at Georgia State as a first-generation college student and then transferred to Georgia Tech as a Mechanical Engineer. Upon graduating, I have worked five internships in R&D, Manufacturing, and as a Hardware PM. In my next chapter, I have gratefully accepted my full-time offer at Microsoft and will be starting in the summer of 2022. My dream for the future is to empower more first-generation students to leverage their full potential and change the trajectory of this world through encouragement, hard work, and determination.
What resources did you use while at Tech?
I utilized first-gen mentoring at Tech where I mentored several first-year students. I also met many peers at the Invention Studio. I was able to grow through GA Tech's counseling.
What are some things you wish you knew when coming to Tech?
I wish I knew more about study halls with first-gen students, scholarships, and advisors at Tech.
What advice would you give to other first-generation students at Tech?
Make amazing connections with other Tech students. You are making connections that will be a help and support to you throughout your career.
Anyone you'd like to thank?
Thank you to my mentor, Miller Templeton, who helped guide me through the hurdles of being a first-gen student. His support and mentorship have changed my life and have made ripple effects that will last through the generations!
Favorite quote:
"Praise be to the God and Father of our Lord Jesus Christ, the Father of compassion and the God of all comfort, 4 who comforts us in all our troubles so that we can comfort those in any trouble with the comfort we ourselves receive from God." 2 Corinthians 1:3-4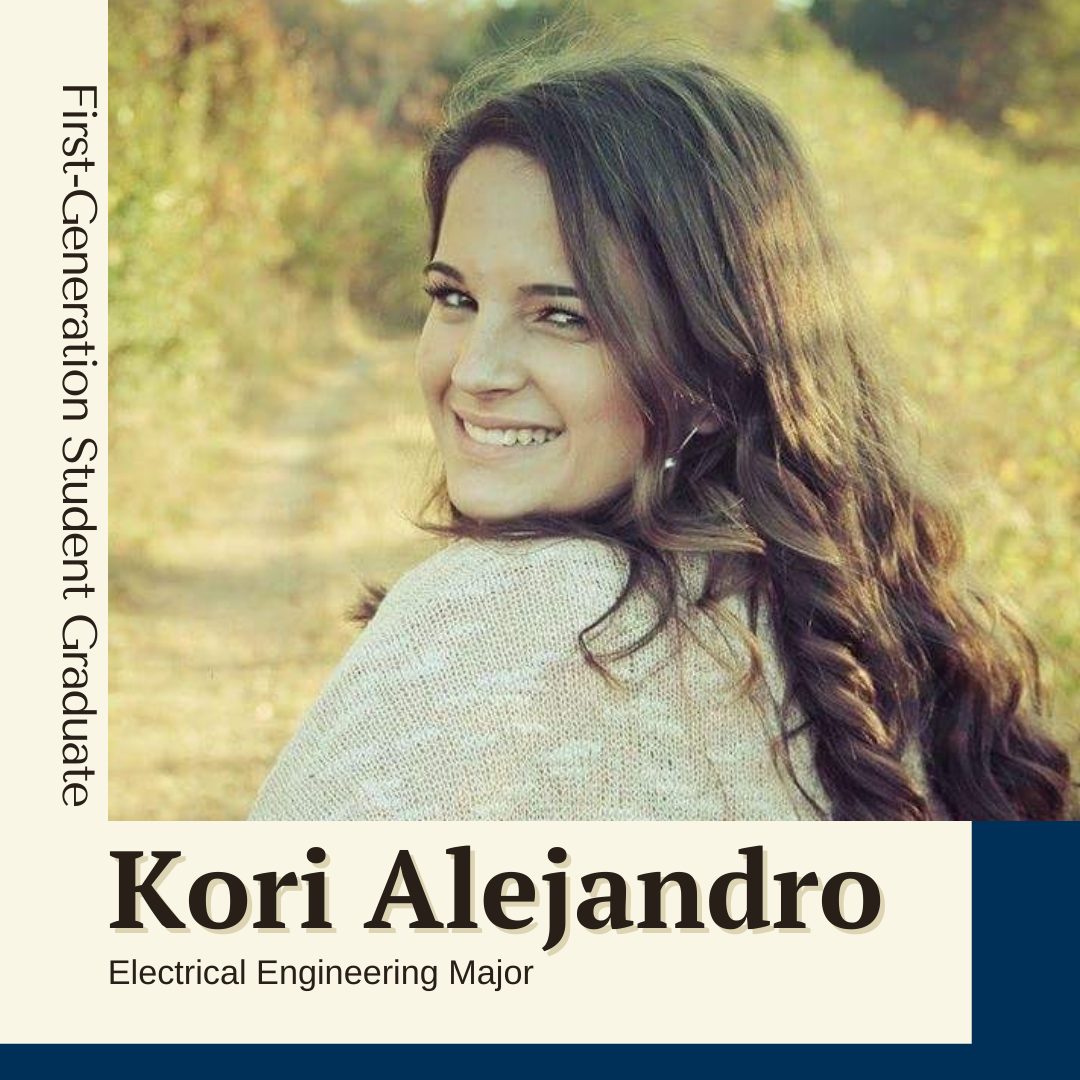 I would define my experience as a first-generation student as "hard", but hard looks different for everyone. I honestly don't know how I would quantify what a first-generation student is other than the word "trailblazer". I took my path in stride and did my best to keep putting one foot in front of the other, focusing on what it took to accomplish what I wanted to do, and not comparing myself to anyone.
Growing up I always did well in school—you could give me any task and I could figure out how to complete it. School was my way out, the thing I could count on, so I worked hard. I did not have a basis of knowledge on how to navigate college, but I took to my keyboard and researched. I had no clue what I wanted to major in—I was naturally good at Science and Math and enjoyed problem-solving—so I decided on engineering. I remember putting a robot together in my high school class by myself and enjoyed what made it tick. Through a bit of research, I decided the best option for me was Georgia Tech. I started working part-time to save up money to pay for college and saved every penny. When I got my acceptance email, I cried in the break room of my part-time job, which I got permission from my soccer coach to do when I wasn't at soccer practice.
Now Georgia Tech itself? This was a whole new ballgame. When things got hard, tutoring, making friends to study and learn with, and extra self-studying became my go-to's. I went to office hours multiple times a week and made some of my best friends through my hardest courses. We struggled alongside each other as we learned in Architecture West and Field Hall. The greatest thing I loved about Tech was meeting people from various backgrounds, I got to hear others' stories and backgrounds, even if there was a major culture shock to that experience.
Further into my college career, I did a co-op. I learned a lot about what a job looks like, what I didn't want to do, and what work environments did not work well for me. I planned on studying abroad, but couldn't due to Covid-19. Working with my newly-made friends within SMILE (Spreading Messages in Love and Encouragement) became my outlet—starting from a handful of people working on these initiatives up to 100 members and full campus support. In an environment that seemed dreary, maybe I could do something for someone else to lift them.
In my last year at Georgia Tech, I worked my part-time job to cover my rent, I was doing well in school, and had found amazing friends. The house I was living in was falling apart due to ceiling leaks and mold, so I began living in Georgia Tech's emergency housing with the greatly appreciated assistance from STAR Services, which I learned about through a friend and Georgia Tech's First-Generation program. I contracted Covid-19 mid-semester, and I ended up having to withdraw from two courses I enjoyed taking. I went from dropping courses to finishing out on the Dean's List with 21 credit hours, doing research, and graduating with Highest Honors.
To those who ask "why Electrical Engineering?", I would say it's because I was told it was one of the hardest things I could do. I told myself that if I could do that and understand it, I could do anything. It was amazing to go from an "I can do that" attitude to an "I did that" attitude and be able to tell others that they could do the same.
What are some things you wish you knew when coming to Tech?
Two things I wish I had known when coming to Tech—how to code and the resources Georgia Tech has for emergencies, but especially the opportunities you have out in the world and at Georgia Tech.
What advice would you give to other first-generation students at Tech?
Fail. Fail hard and rebound harder. Ultimately it is not how bad you fail, but how you recover that determines your success.
Invest in people– the people ALWAYS make the difference.
If you experience a problem and see others experiencing it as well– see if you can solve it together.
Don't refuse to ask for help– you will only make things harder for yourself.
Anyone you'd like to thank?
Overall, I'd like to thank the people who encouraged me along the way—the people that told me I could do whatever I set my mind to, and the people who helped pick me up along the way– especially my high school counselor/coach and teachers throughout my primary education. I want to thank my grandmother and my papa. Also huge thanks to Zell Miller, Chick-fil-a, Mary Jeanette Muench, and Martin Muench.
To my sisters at Alpha Delta Chi, you all have my heart forever. To Georgia Tech's CARE and STAR Services, I thank you as well. To Georgia Tech's ECE program, advisors, and professors—you all made a big difference for me in my last year. To SMILE and my friends I made along the way—being a part of whatever capacity truly made the difference for me. Lastly, thank you to all the friends who walked alongside me in my last years such as Katelyn, Sid, Lindsay, Lena, Andrew, and Jack-- thank you.