Adding to an ever-growing list of successful scholars, three Georgia Tech students recently earned the prestigious Goldwater Scholarship for their work in science and engineering.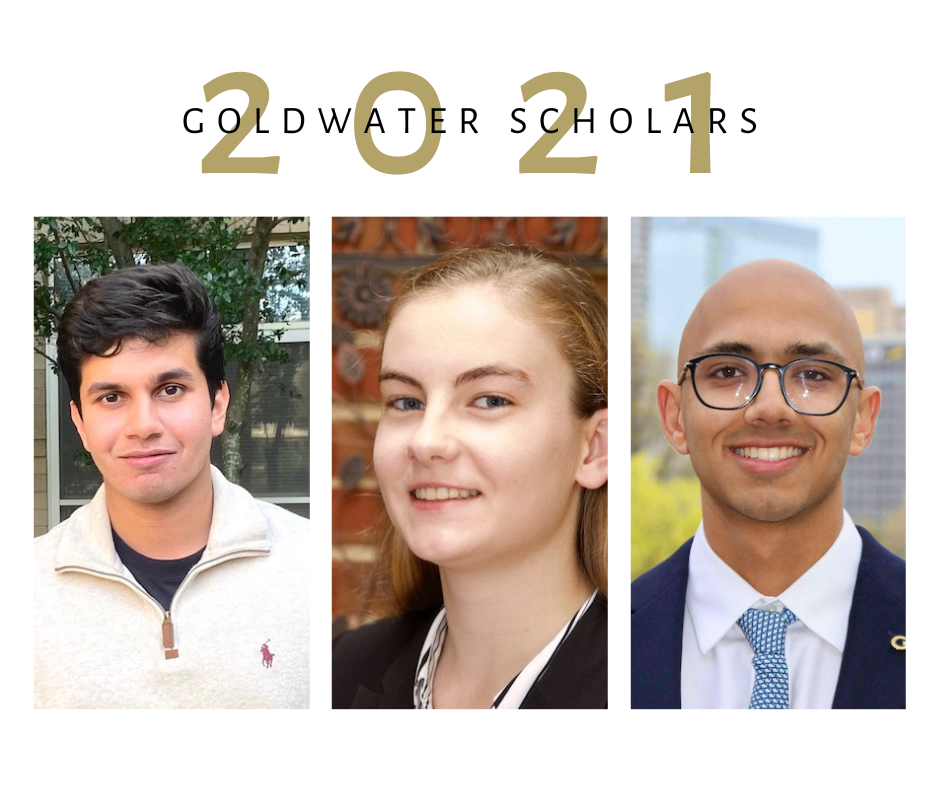 Photo (left-to-right): Pradyot Yadav, Electrical Engineering; Katie Groenhout, Chemical & Biomolecular Engineering; Shovan Bhatia, Biomedical Engineering
From an estimated pool of more than 5,000 college sophomores and juniors, 1,256 natural science, engineering, and mathematics students were nominated by 438 academic institutions to compete for the 2021 Goldwater Scholarships. This year, all three of Georgia Tech's recipients studied in the field of general engineering. The scholarship helps students continue their education and pursue a research career in the natural sciences, mathematics, or engineering. Each recipient will receive up to $7,500.
Karen E. Mura, Prestigious Fellowships advisor, noted that "the applicant pool at Georgia Tech was especially competitive this year, which made it that much harder to select only five nominees for the final competition. I enjoyed assisting each student with their final application and am thrilled with their success. Being selected as a Goldwater Scholar is a significant accomplishment for these students that will directly impact their graduate school and professional future."
 "I feel incredibly humbled and honored to have received the Goldwater Scholarship," said Shovan Bhatia, a biomedical engineering major who plans to pursue an M.D./Ph.D. in neuroengineering. "I am especially grateful to my mentors, Jaydev Desai, Seokhwan Jeong, and Phillip Tran, for their invaluable support through my development as an undergraduate researcher. After receiving the Goldwater Scholarship, I am even more inspired to dedicate my life toward improving the lives of others by creating novel solutions that lie within the fascinating intersection of engineering and medicine." Shovan plans to combine novel engineering-based strategies to improve the functional independence and quality of life of people living with neurological impairments. 
Katie Groenhout, a chemical and biomolecular engineering major, plans to pursue a Ph.D. in chemical engineering, researching electrochemistry and renewable energy storage technology. "I am deeply honored to join this great community of research-focused scholars," Groenhout said. "Receiving this award brings confidence and excitement to my choice to pursue chemical engineering at the doctorate level upon graduation from Georgia Tech."
Pradyot Yadav, an electrical engineering major, plans to pursue a Ph.D. in microwave engineering and to work as a technical fellow at a semiconductor company researching advanced III-V compound semiconductors and novel RF topologies. "It is an immense honor to win this scholarship. Being the most prestigious engineering scholarship in the country, the Goldwater will allow me unparalleled opportunities when the time comes for graduate research," he said. "This scholarship marks the years of dedication I have given to the field of electrical engineering and the start of a career focused on the cutting edge in RF/mmWave research." 
Scholars who receive the award as sophomores can expect to receive support for a maximum of two years (four semesters) or until graduation. Scholars who receive the award as juniors can expect to receive support for a maximum of one year (two semesters) or until graduation. Students interested in applying should visit the scholarship's website, and learn more about other prestigious fellowship opportunities through Tech's Fellowships Advising team.
---
Pre-Graduate & Pre-Professional (PGPP) Advising is a unit within the Office of Undergraduate Education (OUE). To learn more about OUE, follow us @GTOUE on Instagram, Twitter, and Facebook or visit our web page at oue.gatech.edu.