The Honors Program (HP)—a residential living learning community housed in Eighth Street East and Eighth Street South apartments on west campus—is supported by Hall Director Jordan Howell.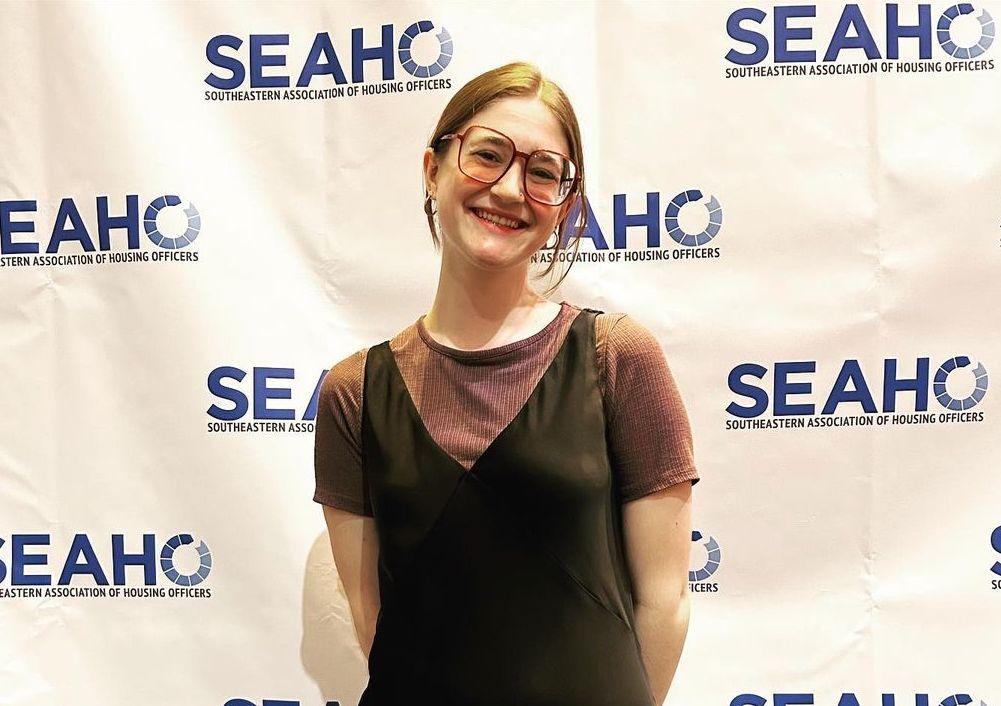 Originally from Charleston, South Carolina, Jordan attended the University of South Carolina for her undergraduate degrees in philosophy and political science and Texas A&M University for her master's degree in student affairs administration in higher education.
In her role as a Residence Hall Director, she guides the Resident Assistants in implementing programming that meets the needs of the HP student population. Programming is often done thematically each month, such as focusing on health relationships in February and inclusive community building in March. Jordan also conducts a biweekly HD Café, where she can connect with residents over coffee and snacks, hear what's going on in their lives, share campus resources, and give them a space to decompress. She has a special interest in working with high-achieving students, like those in the Honors Program, to challenge and support them in developing as leaders that prioritize wellbeing. The programming that she provides has recently been recognized for its excellence by the Southeastern Association of Housing Officers (SEAHO) at their annual conference.
SEAHO brings together people who work in all aspects of on-campus living in the southeast to share knowledge and connect. At this year's SEAHO meeting, Jordan presided over a session titled "Weird Flex, But Okay…Disrupting the Pain Olympics in High-Achieving Student Populations" where presenters shared best practices for disrupting unhealthy habits and redirecting students towards a more sustainable work ethic that is centered on positive wellbeing. Here is the abstract for the session she crafted:
When is the last time that you heard a group of students one-upping each other on who stayed up the latest to study for an exam? Or who skipped the most meals because they were just "too busy"? Collegiate environments that celebrate and normalize over-involvement are failing to support students' fight against burnout; this issue of the "Pain Olympics" is especially harmful for high-achieving student populations. How can Housing Professionals disrupt and redirect students' focus on competition and image in order to integrate sustainable habits into their collegiate routine? This presentation will aid in this pursuit by defining the high-achieving student population, outlining the issue of the Pain Olympics and burnout, and providing specific practices to promote student well-being and sustainable work-ethic.
Her work in crafting this session—and the content that she shared in it—was given the "Best of SEAHO" award by the Programming Committee. We are so "honored" that Jordan was hired to be the Hall Director for the Honors Program and are proud to celebrate her achievement of being recognized by peers in the housing and residence life community for excellence in programming and student support. Thank you and congratulations, Jordan!