Each year, Honors Program students have the opportunity to take a variety of HP classes, with approximately 25 – 30 offered every fall and spring semester.  In fall 2022, one of the classes featured in the Honors Program was PUBP 3042, Data Science for Policy, taught by Dr. Omar Asensio, Assistant Professor in the School of Public Policy and Director of the Data Science and Policy Lab at Georgia Tech.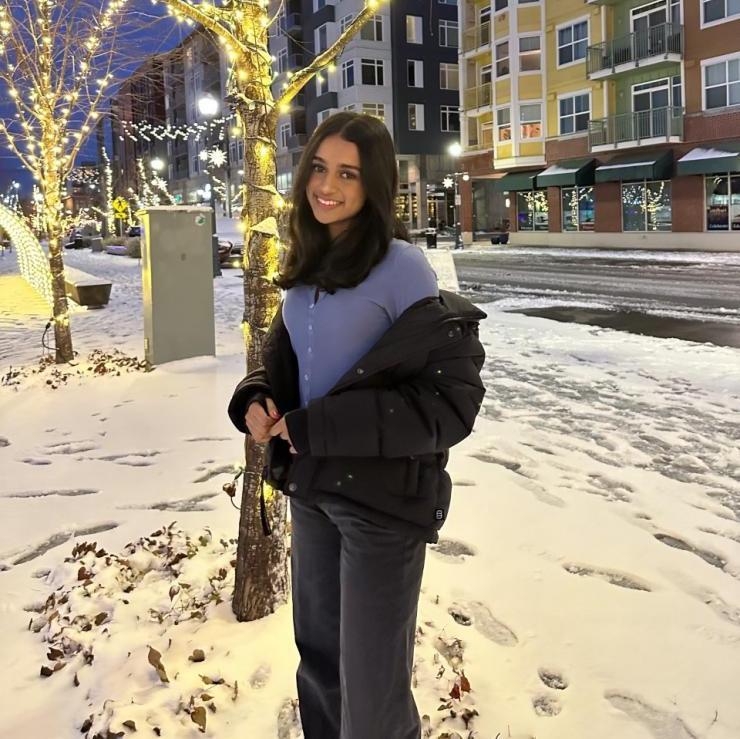 As part of the course, students participated in a national data challenge posed the U.S. Department of Energy (DOE) through their Jump into STEM Challenge (https://jumpintostem.org) focused on building energy efficiency.  First-year Honors Program student Vibha Narasayya took the course and her team won the national competition. 
Vibha is a first-year biomedical engineering major and computer science minor from Seattle, WA who had been engaged around campus through the New Student Onboarding Committee of the Honors Leadership Council and the GT Jadoo competitive Bollywood fusion dance team.  She has been active in planning the fall 2023 Honors Program New Student Retreat and has traveled around the U.S. competing with GT Jadoo.
In PUBP 3042, her team tackled the Jump into STEM Challenge around sustainability and resiliency, addressing the issue of water crises in poor communities of color, which have been exacerbated by climate change.  Using Jackson, MS as a case study, the team developed a plan to install rainwater cisterns in Jackson households while also creating an initiative to educate the public about issues of water conservation and climate change.
Vibha reflected that,
though this project, I learned about the disproportionate impact of climate change on people of color and low-income communities, the department of Energy's environmental justice initiative, and how to apply it when creating solutions to environmental problems. 
Overall, ten Georgia Tech teams competed in the Jump into STEM Challenge, with two of those teams coming in first place and runner up.  JUMP into STEM finalists are invited to present their solutions during the final competition in 2023 and compete for a paid summer 2023 internship at the National Renewable Energy Laboratory, Oak Ridge National Laboratory, or Pacific Northwest National Laboratory.
Vibha plans to take her passion for problem solving into the real world through her program of study at Georgia Tech and her post-graduation career plans.  She would like to focus on undergraduate research—which is a central feature of the Honors Program curriculum for many students—in the area of biomedical technology and hopes to get a job in the biotech industry working in regenerative medicine.  Congratulations to Vibha and her teammates on their Jump into STEM Challenge win.  We are so proud of all of the Honors Program students and their accomplishments at Georgia Tech and in the larger community!