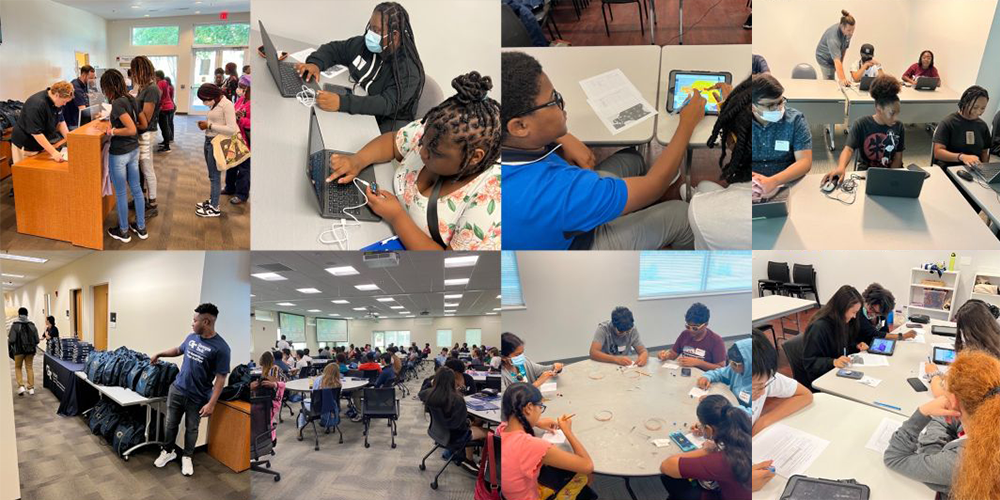 FGCI is a state-wide, summer initiative at Georgia Tech designed to expand on Georgia Tech's existing PreK-12 STEM programs to amplify the Institute's impact by identifying, engaging, and preparing first-generation and limited-income 8th-12th students for the transition from high school to college and aptitude in STEM. The initiative aligns with the Institute's goal to expand access to underserved populations, which includes first-generation students. 
"[It was] such a wonderful and inspiring day! In addition to our student events, we included an icebreaker and sessions for parents. Parents and students were engaged and enjoyed the sessions," said Dr. Charmaine Troy, program and operations manager for First-Generation Student Programs at Georgia Tech. "I received such inspiring feedback and comments from the parents!"
During the program, CEISMC provided students with several STEM activities to participate in, ranging from hurricane simulations to game coding and even creating a traffic light. The program also focused on uniting students around the shared identity of being a first-generation college student, preparing and empowering students for the transition from high school to college, and connecting students with programs, resources, and people that will support their success at Georgia Tech.
"This program could not have come to fruition without the collaboration of such amazing people and departments. Thank you to my CEISMC partner Sirocus Barnes and the entire CEISMC team in Atlanta and Savannah. Thank you to Leri Argueta from the Office of Admissions and LaTonya Harrell from the Office of Scholarships and Financial Aid for partnering with us, to Steven P. Girardot for welcoming our students and families in Savannah, and to my dream team of interns: Zaria Hardnett, Riddhi Madeka, Stefania Di Carlo, Sam Ibarra, and Ethan Asante! They were absolutely amazing!"