At the fall 2022 Capstone Expo, Honors Program senior Ivan Zou and his team "Raccoon Eyes" were named the first-place winners for their project meant to address food waste in dining facilities on campus.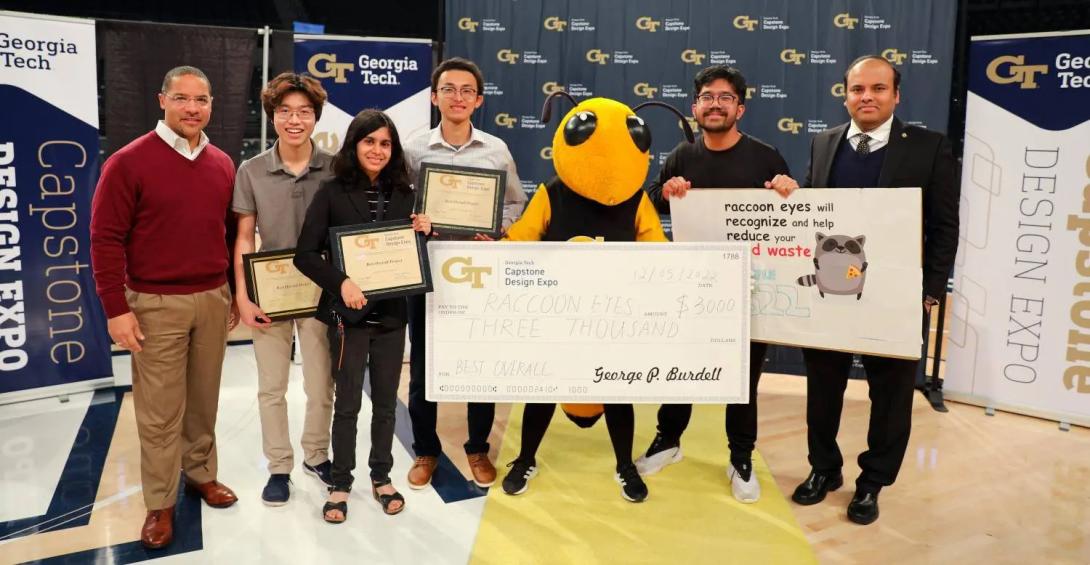 Zou is a fourth-year computer engineering major from Massachusetts and a member of the Honors Program who is planning on pursuing his master's degree after he graduates in May 2023. Zou reports that he is a "major foodie," which was one of the inspirations for his Capstone Expo project. 
After observing the amount of food that was being thrown away in campus dining facilities and talking to GT Dining workers in cafeterias around campus, Zou and his teammates got the initial idea to install cameras on dining facilities' trash cans to begin measuring food waste. It developed into "Raccoon Eyes," which detects the type and quantity of food being disposed of, then asks the student or staff member why the food is being thrown away. That response and the data collected from the camera is then sent to a member of the research team for analysis and information on the carbon impact of the food being thrown away is shared with the person disposing it. These data can help GT Dining and students/staff with selecting appropriate portion sizes and with finding recipes that have wide appeal and lead to less waste.
Zou has been inspired by the experience of project-based learning at Georgia Tech and participation in the Honors Program. He says:
I love and have a lot of fun applying the amazing technologies and their intricacies I learned in school to…impactful areas where no one has thought to look, which was one of my major inspirations to work on our senior design project. Not only are the technologies we try to implement cool but also the awesome people I meet and join me along the way as we struggle through to create something real…I've got the chance to meet and work with some of the brightest and most amazing people that I won't be able to anywhere else and the fun, laughs, and memories we've made are really my greatest accomplishments here at Tech.
He credits HP classes like the Startup Lab with Dr. Furst and the Micro/Nano Revolution with Dr. Cressler for giving him insights into the work that he'd like to pursue in the future. Regarding Dr. Furst's class, Zou reflected:
He (Professor Furst) really does "teach the secrets of the universe" as he mentions regarding the economic and psychology behind humans and self-interaction. I've learned an incredible amount of insights and knowledge through him regarding startup success as well as lessons that should be applied overall in life such as how we fool our minds everyday through the many bias and shortfalls of our mind, how to properly conduct customer interviews to analyze true underlying and authentic customer demand/need, how startups put us in a position to succeed by expressing who we are by choosing ourselves, how to plan and adapt based on types of risks, and the Not-Not principle that is needed to drive innovation.
Ivan plans to pursue a master's degree, and possibly a PhD, post-graduation while he explores the feasibility of creating a startup around Raccoon Eyes. He is interested in working in the area of AI applications, which he learned about through his Capstone Expo project. In his last semester at Tech, he hopes to continue his involvement with the Honors Program, including through HP intramural sports teams. Congratulations to Ivan Zou and the members of his winning Capstone Design Expo team!