Three Georgia Tech students have been named recipients of the prestigious 2023-24 Fulbright scholarship, a highly competitive program that provides opportunities for students and scholars to study, teach, and conduct research abroad.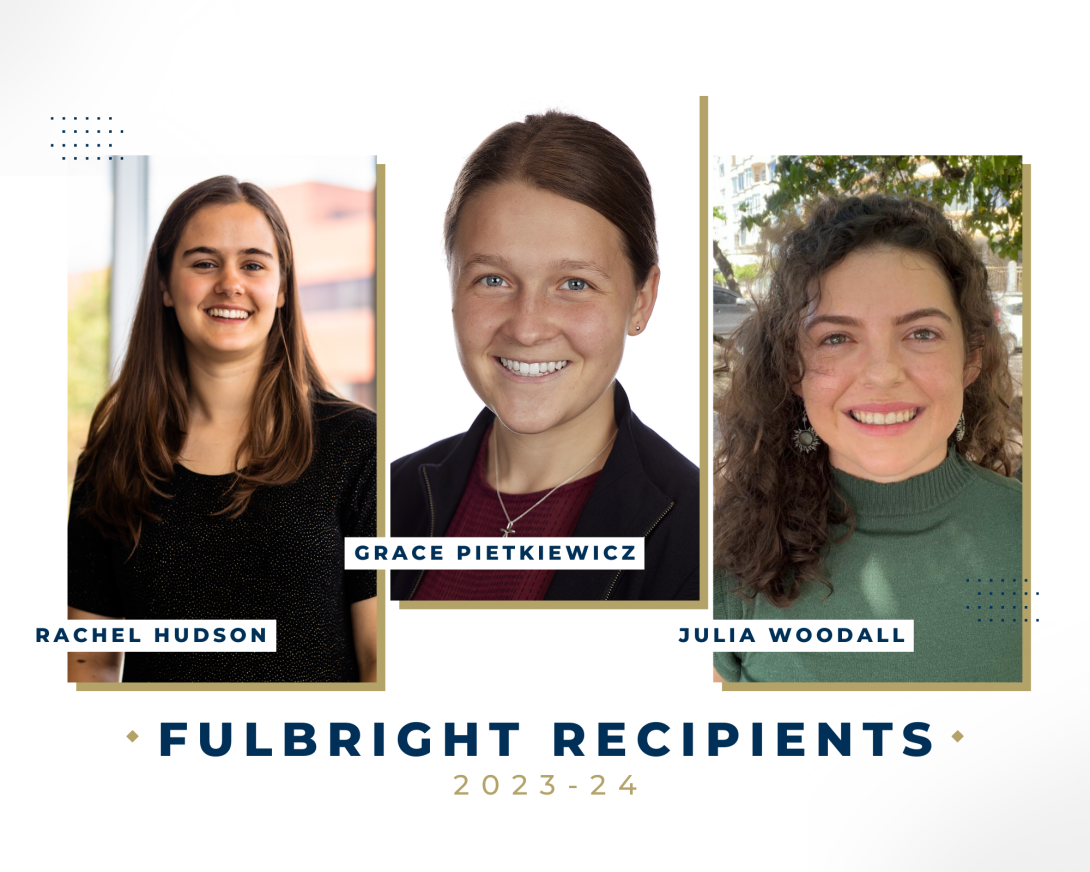 Rachel Hudson, Grace Pietkiewicz, and Julia Woodall will spend a year in South Korea, Austria, and Ethiopia, respectively, engaging in research and teaching activities. 
Hudson, an applied language and intercultural studies major, will be an English teaching assistant in South Korea. She is excited to experience Korea through its workforce and educational system and hopes to better understand people's experiences through the lives of her students, host family, and co-workers. Her long-term goals are to see and understand as much of the world as she can. 
Prestigious Fellowships Advising helped me pick a direction for my essays and I received advice about what the Fulbright panel typically looks for and values in applicants, their essays, and letters of recommendation," she said. "The interviews and advising sessions as well provided several opportunities for me to receive feedback from multiple people who are familiar with the Fulbright process. I felt like they set me up with an understanding of the award expectations and values so that I could create an application that best highlighted those aspects of myself and my experiences.
Pietkiewicz, a literature, media, and communication major, will spend a year teaching in Austria and believes that language exchange is a crucial element for strong cross-cultural relationships. Her long-term goals are to use cross-cultural skills to improve sustainability, education, and social engagement both in her local community and globally. As a U.S. teaching assistant, she hopes to help students improve their English while gaining an appreciation for American culture. She wants to inspire them to become internationally educated leaders. During her time in Linz, she hopes to settle into the community and experience Austria like Austrians do. Her goal is to form deep friendships and truly experience the food, activities, weather, and joy of life there.  
As a literature, media, and communication major, I believed I knew everything about writing; therefore, I didn't think I needed any help with my application essays," said Pietkiewicz. "However, with Karen Mura's advice, I learned the important elements of a successful Fulbright application and was convinced to delete my first draft and start over with a new version. It was definitely the right choice, and I'm very thankful for the support of Prestigious Fellowships Advising.
Woodall completed her biomedical engineering undergraduate degree at Georgia Tech in 2020 and is now working on a Ph.D. in bioengineering. She wants to leverage her engineering skills to improve the lives of others, especially vulnerable populations like mothers and infants in low-resource settings. Her Fulbright research will focus on maternal health, global health, and biomechanics. Specifically, she proposed to create a low-cost tool to predict a mother's risk for developing preeclampsia (a dangerous pregnancy disorder) using study data and computational models of vascular mechanics.  
Prestigious Fellowships Advising has been an outstanding supporter and advocate for me throughout many fellowship applications," she said. "They have provided advising, application material review, mock interviews, and email reminders to help keep me on schedule with submitting application materials.
Georgia Tech's Prestigious Fellowships Advisor Karen Mura sees the Fulbright as an opportunity for recipients to connect with the world as they advance their personal goals and growth. "The Fulbright program is a tremendous opportunity for our students to broaden their horizons and gain valuable experience in their fields of study," she said. "We are incredibly proud of Rachel, Grace, and Julia for their hard work and dedication, and we look forward to seeing how they will contribute to their host communities while representing Georgia Tech and the United States." 
The Office of Undergraduate Education is proud of these talented students and wishes them the best of luck as they embark on their Fulbright journeys. 
Apply for Fellowships: 
Students interested in Fulbright, or any nationally or internationally competitive award, can follow up by scheduling an appointment with Karen Mura on Advisor Link.  
 
Pre-Graduate and Pre-Professional Advising is part of the Office of Undergraduate Education (OUE). Learn more about OUE by following @gtoue on social media.