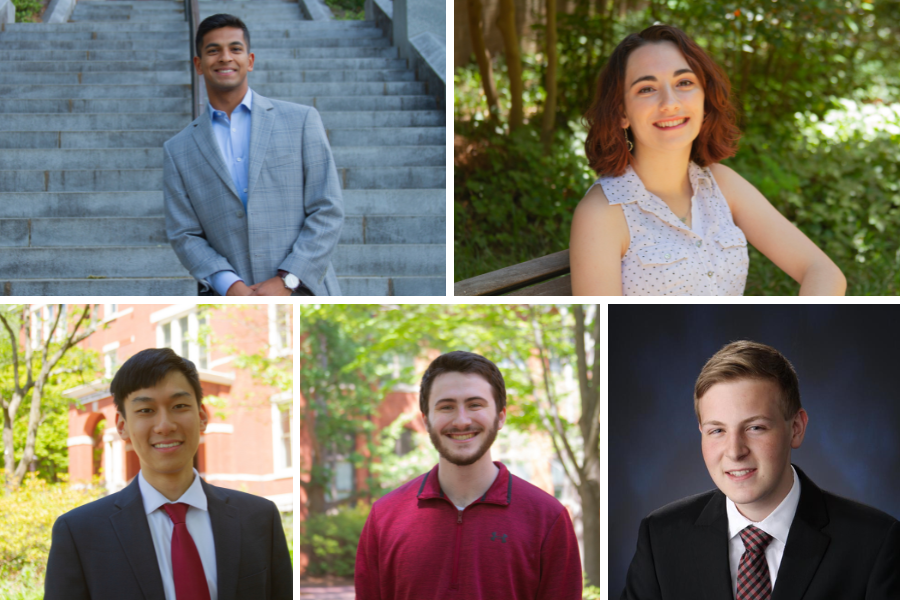 This year's Provost's Academic Excellence Awards recipients are Arul Gupta from the Scheller College of Business, Elena Cabrera from the College of Sciences, Kevin Li from the College of Computing, Jacob Young from the Ivan Allen College of Liberal Arts, and Peter Lais from the College of Engineering. 
Established in 2021, the Provost's Academic Excellence Award was created to recognize the remaining finalists of the Love Family Foundation Award. Each student is a graduating senior and represents the most outstanding scholastic record from their college. Finalists receive a $2,000 award, generously sponsored by the Love Family Foundation, and recognition at the annual Student Honors program.
Arul is graduating this spring with a degree in business administration. Arul's campus involvement includes being a Scheller student ambassador, Georgia Tech student ambassador, men's captain of the Georgia Tech Club Tennis team, Poets and Quants Undergraduate 2023 Best and Brightest, and a Zel Miller Scholarship recipient. He would like to pursue a career in automotive sustainability or the future of mobility. Arul looks forward to traveling through Western Europe and then joining McKinsey and Company as a business analyst this fall. "I am immensely grateful to have spent four years at Georgia Tech and the Scheller College of Business," said Arul. "This school has provided me with numerous learning and development opportunities through academic clubs or ambassador positions, mentors, and social communities. I have had the wonderful pleasure of building relationships with many peers, the Scheller Undergraduate Office, and more. Their endless support has made me the Yellow Jacket I am today, and it is a special honor to represent the Scheller College of Business with the Provost's Award."
Elena is planning to attend graduate school after graduating with her psychology degree from Georgia Tech. Some of her accomplishments on campus include research in the Adult Cognition Lab for three years, being Psychology Association president, two OMED Tower Awards, and the College of Sciences Dean's Scholarship and Early Research Award. Elena's interests include social psychology, cognitive aging and memory, and cultural impacts. She plans to become a psychology professor and pursue social and cultural psychological research. "I am deeply honored to have received this award and represent the School of Psychology," said Elena." I would like to thank my family and friends as well as the educators and advisors that have helped me reach this point in my academic career. Having been a part of the Georgia Tech community has been an incredibly rewarding experience. I will graduate knowing that I have received a top-notch education as well as lifelong friends and memories. I am proud to call myself a Yellow Jacket!"
Kevin is graduating with a degree in computer science and biomedical engineering this spring. Some of Kevin's other awards and roles include Undergraduate Teaching Assistant of the Year, Head Teaching Assistant, member of SGA's Educational Enhancement Committee, SGA's Committee Chair for the Curriculum and Classroom Practices committee, and first place in the Qualcomm Intern Hackathon. Kevin is looking forward to beginning a Ph.D. in machine learning at Carnegie Mellon this fall. "My past four years at Georgia Tech have been incredible, and I am honored to receive the Provost's Academic Excellence Award," said Kevin. "It would not have been possible without the support and encouragement of faculty, mentors, friends, and family. I thank my mentors, Dr. Duen Horng (Polo) Chau, Dr. Mahdi Roozbahani, Dr. Ahmet Coskun, and Mr. Jake Vizzoni, among many others, for their significant roles in shaping who I am today."
Jacob is graduating with degrees in history, technology, and society and international affairs this spring. He is also a winner of the Bellon Award and the HSOC Chair's Award this year. Some of his hobbies include research and writing. Jacob is looking forward to beginning his master's degree in international affairs in the fall at Georgia Tech. "Winning this award has been such a gratifying way to finish my time as an undergraduate here at Tech," said Jacob. "I would like to thank everyone at the School of History and Sociology for their support over the last four years and for nominating me for this award."
Peter is graduating with a biomedical engineering degree. He has completed multiple research projects under PI Dr. May D. Wang and MD-PhD mentor Felipe Giuste at Georgia Tech's Bio-MIBLAB. He enjoys volunteering at the Hive Makerspace on campus, the Gateway Center Atlanta, and at Emory's myLIFE program. After graduation, Peter plans to become a physician-scientist and complete an MD-Ph.D. program in August 2024. "I am truly honored to have been recognized in this way by Georgia Tech," said Peter. "My achievement is founded on an unwavering support from my family, friends, loved ones, mentors, and Georgia Tech's amazing faculty, and I am incredibly grateful for their academic and social support that has helped me excel at Georgia Tech. A special thanks to my mentors Dr. May D. Wang and Dr. Felipe Giuste, my colleagues at Georgia Tech's Bio-MIBLAB, my friends at the Hive Makerspace, the College of Engineering, and all those who have made my years at Georgia Tech truly unforgettable."
The Office of Undergraduate Education is proud to celebrate these exceptional students and looks forward to their continued success in their academic and professional pursuits.