Within the Office of Undergraduate Education, our staff, faculty, and students "thrive on diversity" as articulated in our Institute values:
We see diversity of backgrounds and perspectives as essential to learning, discovery, and creation. We strive to remove barriers to access and success, and to build an inclusive community where people of all backgrounds have the opportunity to learn and contribute to our mission.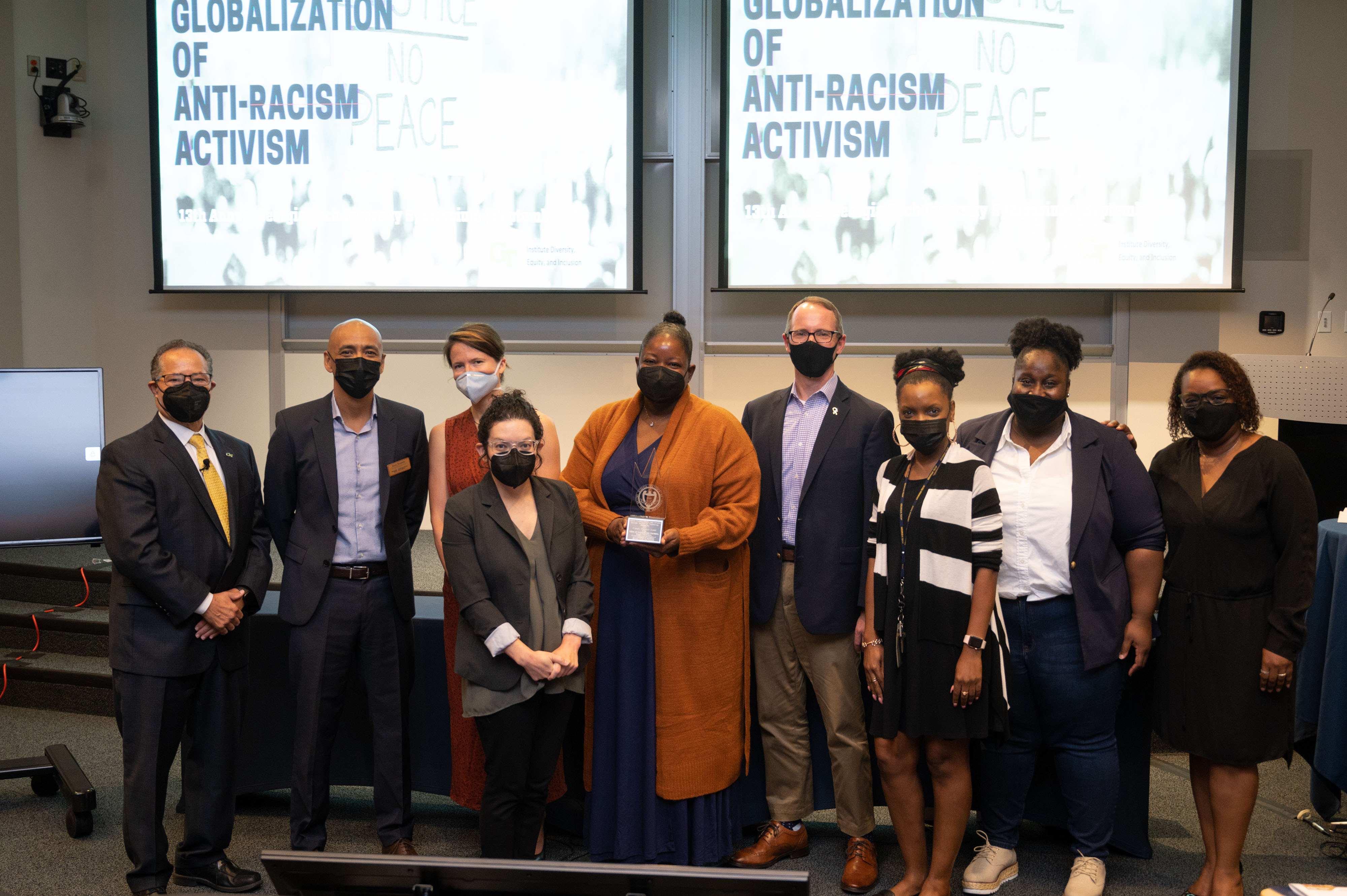 Pictured above: the OUE Equity Collective poses as one of four recipients of the 2021 Georgia Tech Diversity Champion Awards—for the "campus unit" category—at the 13th Annual Diversity Symposium.
Supporting DEI at Georgia Tech
We are actively working to support the goals in Georgia Tech's Diversity, Equity, and Inclusion (DEI) strategic plan. Some of our initiatives are described here.
Establishing dedicated leadership in OUE through our Director of DEI in Undergraduate Education
Reporting directly to the VPUE and serving on OUE's senior leadership team, Dr. Joyelle Harris is a faculty member in the School of Electrical and Computer Engineering where she teaches undergraduate electrical engineering courses and serves the Director of DEI Initiatives in Undergraduate Education. Dr. Harris works to support DEI within OUE's programs and services as well as across campus, in partnership with other campus units.
Engaging and Supporting the Efforts of OUE's Equity Collective
In Summer 2020, members from all OUE units at all levels, joined in common cause to establish the OUE Equity Collective. Membership is entirely voluntary; leadership belongs to everyone; and staff are welcome to join meetings or discussions at any time. The Collective's activities focus on identifying opportunities to advance DEI and anti-racism within OUE and across the Institute. The Collective has been our most effective engine for achieving impact; many of our accomplishments around DEI are the direct or indirect result of its efforts. In 2021, OUE's Equity Collective was the recipient of the Institute Diversity Champion Award for a Campus Unit.
Representing OUE on the Office of the Provost (OOP) DEI Council
OUE is represented on the Office of the Provost DEI Council, which is working to "improve inclusion and belonging for the students, staff and faculty working in and served by the Provost's Office and its administrative and VP reporting units."
Current members from OUE include:
Steven Girardot (VPUE), (inaugural co-chair)
Iteeah Pounds (Career Center)
Lacy Hodges (OVPUE)